Player Person
Game Boy? Are you implying that only boys play games, incredibly politically incorrect. How about the Player Person, a unisex device for all.
Try out games such as Plumber Genarico, the work of an Italian plumber, Tale of Link about princess Zelda (because yeah), Save The Monkey, and so many more! Two more!
The device is well polished with not glitches, they are 95% on purpose and 12% magic.
Starring programmer art: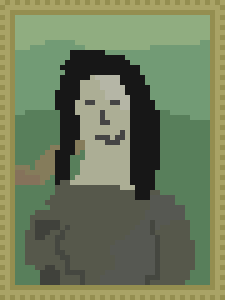 For the best experience I recommend playing without ears, but the lowest possible volume will suffice .
Instructions:
be gud, if not u r nub yeah so ez gg no re

Move around with WASD or Arrow Keys. Also use a mouse or trackpad because you have one. If you don't then just use your tongue or something. <insert other try hard joke here>
Mario Ripoff use WASD or Arrow Keys to move, jump, and crouch if you have the plumber tool to enter the pipe. You can also use the space bar to jump. For the Legend of Zelda ripoff all you can do is move around with Arrow Keys and WASD. For the vampire game one can move up and down using Arrow Keys and WASD. Final play the Donkey King ripoff using WASD and Arrow Keys to jump and move.
This game was created for the Meta Game Jam 2018

Check out my devlog at https://trello.com/b/I3fQsJX2/game-jams and subscribe to my youtube channel at https://www.youtube.com/c/SpacefaceDEV.